Back to the list
[EN LIGNE] Politisation et hiérarchies coloniales : Amérindiens et Noirs-marrons à St-Paul (Guyane française, 1946-2000)"
| - 2 September 2011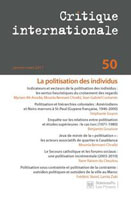 Stéphanie Guyon est l'auteure d'un article intitulé "Politisation et hiérarchies coloniales : Amérindiens et Noirs-marrons à St-Paul (Guyane française, 1946-2000)", paru dans le N°50 de Critique internationale en 2011.
ARTICLE DISPONIBLE EN LIGNE SUR CAIRN -
http://www.cairn.info/revue-critique-internationale-2011-1-page-21.htm
La table des matières et la présentation complète du numéro est en ligne ici
Résumé (anglais)
How did the Amerindian and Maroon populations of a French Guyanese administrative district appropriate democratic institutions – in particular, electoral institutions – from the 1960s through the late 1990s ? Voter participation and the development of partisan loyalties first took place thanks to mediators in contact with these populations via Catholic patronage (ecclesiastic personnel, charitable organization volunteers) and, subsequently, the patronage-based distribution of public goods (village "captains", electoral agents, locally elected representatives). Over the course of the 1980s, associational participation – whether in the Amerindian movement or in local maroon associations – allowed alternative spaces of politicization founded on the defense of group identity and group interest to be constructed. This new activist generation challenged the established Creole elites but remains marginalized in institutional political space, in particular due to social hierarchies inherited from the colonial period and reproduced after the territory was granted the status of an administrative département.
Présentation du N°50 de la revue Critique internationale
Le concept de « politisation » perd en contenu et en intensité à mesure qu'il gagne en extension. Il convient donc, d'une part, de le clarifier en se focalisant sur une seule de ses dimensions, la politisation des « individus ordinaires », d'autre part, de restituer le dialogue entre des chercheurs dont les usages de cette notion sont très diversifiés, tant par les objets qu'ils étudient que par les méthodes et les traditions théoriques qu'ils mobilisent. Cette entreprise de décloisonnement et d'hybridation s'applique ici à des populations hétérogènes : villageois noirs-marrons et amérindiens en Guyane française, étudiants en Turquie, membres d'associations de quartier, habitants de bidonvilles et victimes de la répression au Maroc, ainsi que militants du Secours catholique en France.
Référence
Guyon Stéphanie, 2011, « Politisation et hiérarchies coloniales : Amérindiens et Noirs-marrons à St-Paul (Guyane française, 1946-2000) », Critique Internationale, Presses de Sciences Po, n°50, pp.21-37