Back to the list
[EN LIGNE] "Un multiculturalisme sans minorités ? Quelques réflexions sur l'Etat plurinational en Bolivie et en Equateur"
| - 17 June 2014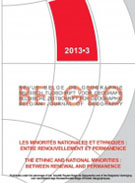 Laurent Lacroix est l'auteur d'un article intitulé « Un multiculturalisme sans minorités ? Quelques réflexions sur l'Etat plurinational en Bolivie et en Equateur » publié dans la revue en ligne Belgeo dans le numéro 3/2013 intitulé Les minorités nationales et ethniques : entre renouvellement et permanence (Table des matières).
ARTICLE DISPONIBLE EN LIGNE SUR REVUES.ORG : http://belgeo.revues.org/11512
Résumé
L'instauration en cours d'un État plurinational en Bolivie et en Équateur nous amène à repenser les formes classiques du multiculturalisme. Ce dernier a pour vocation un changement radical dans le traitement politique et historique de la question autochtone. Alors que le multiculturalisme libéral adopté dans de nombreux pays d'Amérique latine au cours des années 1990 repose sur l'idée que les peuples autochtones constituent des minorités culturelles auxquelles il faut conférer un statut particulier et pour lesquelles il faut élaborer des politiques spécifiques face à une culture nationale hégémonique, le plurinationalisme propose quant à lui, dans un processus de reconstruction des catégories sociales historiques, d'abolir toute distinction entre minorités et majorité par l'adoption d'une approche transversale de la question autochtone. C'est ainsi qu'il reconnaît les peuples autochtones comme des sujets juridiques et politiques de l'État, au même titre que les citoyens non-autochtones, établissant une relation d'égalité entre entités collectives et individuelles.
Cet article se propose de caractériser les États plurinationaux d'Équateur et de Bolivie et d'analyser de manière critique leur mise en place ainsi que les significations et implications multiples du concept. Il s'agira de relever les défis collectifs par l'appréhension des débats suscités par l'instauration d'un État de ce type et les luttes de légitimité pour contrôler celle-ci.
Abstract
The institution of a plurinational State in Bolivia and Ecuador brings us to rethink the classical forms of multiculturalism, which is designed to generate a radical change in the political and historic treatment of the indigenous question. While the liberal multiculturalism adopted in numerous Latin American countries during 1990s considers indigenous peoples as cultural minorities, which need to be accorded a particular status and to have specific policies developed for them in the face of hegemonic national cultures, plurinationalism suggests abolishing any distinction between minorities and the majority through the redefinition of historical and social categories and through a transversal approach to the indigenous question. In this way, the plurinational state recognizes indigenous peoples as legal and political subjects of the State, in the same way as non-native citizens, and establishes a relation of equality between collective and individual entities.
This paper characterizes the plurinational states of Ecuador and Bolivia and critically analyzes the implementation of the plurinational state in these countries and its multiple meanings and implications. The paper reveals the collective challenges being faced by considering the debates on the process of instituting this type of state, as well as the conflicts of political legitimacy relating to its control.
Référence
Laurent Lacroix, « Un multiculturalisme sans minorités ? Quelques réflexions sur l'Etat plurinational en Bolivie et en Equateur », Belgeo [En ligne], 3 | 2013, mis en ligne le 02 juin 2014, consulté le 17 juin 2014. URL : http://belgeo.revues.org/11512