Back to the list
Une mairie dans la France coloniale. Koné, Nouvelle-Calédonie
| - 20 June 2011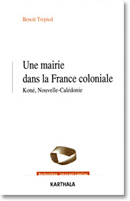 Benoît Trépied is the author of Une mairie dans la France coloniale. Koné, Nouvelle-Calédonie ("A Municipality in Colonial France. Koné, New Caledonia"), Paris, Recherches Internationales-CERI (collection directed by Jean-François Bayart), Karthala-Province Nord, 2010.
Abstract
The extension of French citizenship to "native subjects" in 1946 deeply transformed what was then called "Colonial France". In New Caledonia, this transformation produced a new political party that would dominate the political debate from the 1950s to the 1970s: the Union Calédonienne (Caledonian Union). This organisation united "Melanesian" (or "indigenous") and "European" militants and voters (in the terminology of the time). Retrospectively, this historical sequence appears enigmatic in many ways. How does one analyse the political triumph of a party whose official motto – "Two Colours, One People" – was apparently blind to the inequalities inherited from the colonial period, less than ten years after the end of the Indigénat regime? The author works to answer this question through historical research and ethnographic fieldwork conducted in the rural commune (municipality district) of Koné, on the northwest coast of New Caledonia's main island. Devoted to the study of local actors, conflicts and municipal issues, this research offers a micro-history of the Union Calédonienne "from below". This party was able to forge an unprecedented alliance between white workers, Kanak "tribes" and other "colonial outsiders" in the Koné area through a subtle manipulation of the nuances and ambiguities which shaped the Caledonian social structure at the crossroads of Kanak civilisation and European colonisation. This monograph in anthropology and micro-history is a major contribution to a renewed understanding of the political and moral economy of "colonial situations" and to the ongoing debate on postcolonial studies. It sheds light on a forgotten yet crucial page of the history of the South Pacific.
Table of contents
A MUNICIPALITY IN KANAK COUNTRY
Municipality and Chiefdoms Under the Indigénat Regime
Citizenship and Water Pipes
Kanaks in the Municipal Council
A KANAK HISTORY OF POWER
Familial Strategies (18th Century-1946)
Party Mobilisations (1946-1957)
Leaving the Union Calédonienne (1957-77)
THE UNION CALEDONIENNE IN THE VILLAGE
The Colonial World of Koné
'Little Settlers' Versus 'Big Companies'?
The Workers' Party
TWO COLORS, ONE PEOPLE ?
The Alliance of Colonial Outsiders
Racism and Militant Sociabilities
The Men of 'Two Colours, One People'